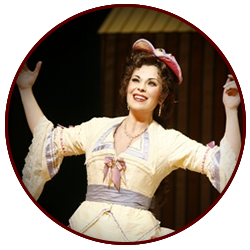 Hailed by The New York Times as "bright, active, and fastidiously musical," and by Opera News as having "a golden sound," Sarah Jane McMahon is recognized for her "beautiful vocal sophistication" and "sparkling stage presence." Recently, Sarah Jane sang a Gala concert opposite Placido Domingo and made her debut with The San Francisco Symphony, Munich Philharmonic, the Wiener Konzert Haus, Bremen's Die Glocke, and the Santo Domingo Festival in The Dominican Republic. A frequent guest artist at New York City Opera, she performed Mabel in their new production of The Pirates of Penzance and was described by The New York Times as "the most polished and flexible singer in the cast" and "a deft comic actress." She also received their coveted Kolozsvar Award for her performances as Galatea in Handel's Acis and Galatea, and was lauded for her "silvery-voiced soprano" and "real star presence" in Purcell's King Arthur.
Selected by Maestro Placido Domingo to join the Los Angeles Opera, she sang with the celebrated tenor as the Fifth Flower Maiden in Parsifal, Naiad in Ariadne auf Naxos and The Milliner in Der Rosenkavalier. Sarah Jane also has performed with Bard SummerScape Festival as Xanthe in Richard Strauss' Die Liebe der Danae, with the Washington Concert Opera as Dorinda in Handel's Orlando, with Michigan Opera Theatre as Zerlina in Don Giovanni, Arizona Opera as Mabel in Pirates of Penzance, Opera Grand Rapids as Fiordiligi in Cosi Fan Tutte, Pamina in Die Zauberflöte, Maria in West Side Story and Micaela in Carmen, Opera Omaha as Fanny in Il Cambiale di Matrimonio, Toledo Opera as Violetta in La Traviata, Josephine in HMS Pinafore with both the Louisiana Philharmonic Orchestra and San Antonio Opera, with Central City Opera as Maria in West Side Story, Kathie in The Student Prince, Anne in A Little Night Music, and Lucia in Rape of Lucretia, with Chautauqua Opera as Mabel in The Pirates of Penzance, with Des Moines Metro Opera as Susanna in Le Nozze di Figaro, Lisette in La Rondine, and Abigail Williams in The Crucible, Opera Company of North Carolina and Mississippi Opera as Gilda in Rigoletto, Piedmont Opera as Clara in The Light in the Piazza, and Opera Theater of Connecticut as Violetta in La Traviata and Cleopatra in Handel's Giulio Cesare. Her roles with the New Orleans Opera include Pamina in Die Zauberflöte, Micaela in Carmen, Valencienne in The Merry Widow, Musetta in La Bohème, Monica in The Medium, and Maria in West Side Story. Sarah Jane also performed Donna Clara, the Infanta, in Zemlinsky's Der Zwerg at Bard SummerScape Festival for which Opera News wrote: "Sarah Jane McMahon laughed and danced as the glamorous Infanta, making a golden sound with an alluring light vibrato that evoked the young Pilar Lorengar."
A summa cum laude graduate of Loyola University, New Orleans, and Yale University, recent concert appearances have included Christmas Concerts with The San Francisco Symphony and Shreveport Symphony, Carmina Burana at Avery Fisher Hall and with the Tulsa Opera and Ballet, the Rutter Requiem at Carnegie Hall, Knoxville Summer of 1915/Mahler 4 with the Portland Symphony and Ridgefield Symphony, Bravissimo! with the Canadian Opera Orchestra, Messiah with the Jacksonville Symphony, Winston-Salem Symphony, and Louisiana Philharmonic Orchestra, Mahler 8 with the Asheville Symphony, Gala concerts with the Sarasota Symphony and Youngstown Symphony, and Baroque concerts with Lyrica Baroque.
Sarah Jane has recorded the title role in the premiere recording of Emmerich Kalman's Sari, available on Albany Records. She also has an album of sacred music dedicated to New Orleans and the survivors of Hurricane Katrina, a Christmas album, Night of Silence, and a newly released old standards album, Blessings and Silver Linings.